Our services
ACCOUNTING
Contajul professionals have the experience to help you with your business. We offer accounting bookkeeping obeying the fundamental norms and principles of Brazilian accounting, accurately and quickly. They are more than 35 years making life easier for our clients.
TAX AND TAX
In a rapidly evolving business environment, your business needs to be supported by those who deliver high-quality solutions. Contajul offers bookkeeping services for fiscal books, delivery of ancillary obligations and technical support in the tax area. Attention and care for the client feel safe and go beyond.
STAFF (HR)
Dealing with a complex and dynamic labor model is not an easy task. With the use of specific software, Contajul offers general labor routine, always observing the collective agreement of the working class. Professionally prepared and cutting-edge technology within reach of customers guaranteeing maximum peace of mind.
LEGAL
Coping with the demands of legislation is a major challenge. We offer solutions in consulting in purchase operations, business negotiations, administrative law and preventive legal advice to companies. Our professionals have the experience and knowledge to help you according to your needs.
Contajul magazine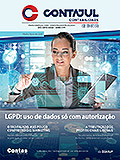 Download our bimonthly magazine
In it you will find a compilation of matters regarding the tax, tax and labor area. Matters important to the day to day business.
CREDENTIALS AT CRC/MG
SECTIONAL DELEGACY OF CRC/MG
By determination of the MINAS GERAIS ACCOUNTING COUNCIL – CRC / MG, on January 15, 2015, our managing director, Prof. ALEXANDRE EDUARDO LIMA RIBEIRO, has been reappointed, thus indicated to continue as DECLARATION OF THE SECTIONAL CRC / MG in the city of Contagem, MANDATE FROM 2015 TO 2018.
FGTS OPERATING AGENT CLIENT COUNCIL
On March 12, 2015, the managing partners of CONTAJUL ACCOUNTING, Prof. ALEXANDRE EDUARDO LIMA RIBEIRO and ELISON CARDOSO JÚNIOR were appointed board members of the CLIENT BOARD OF THE OPERATING AGENT OF FGTS in the state of Minas Gerais.
Credentials that attest to the ethical and professional conduct that guides the way relationships are built and cultivated in Contajul accounting in this journey of another 35 years.