Contajul magazine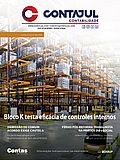 Download our bimonthly magazine
In it you will find a compilation of matters regarding the tax, tax and labor area. Matters important to the day to day business.
CREDENTIALS AT CRC/MG
SECTIONAL DELEGACY OF CRC/MG
By determination of the MINAS GERAIS ACCOUNTING COUNCIL – CRC / MG, on January 15, 2015, our managing director, Prof. ALEXANDRE EDUARDO LIMA RIBEIRO, has been reappointed, thus indicated to continue as DECLARATION OF THE SECTIONAL CRC / MG in the city of Contagem, MANDATE FROM 2015 TO 2018.
FGTS OPERATING AGENT CLIENT COUNCIL
On March 12, 2015, the managing partners of CONTAJUL ACCOUNTING, Prof. ALEXANDRE EDUARDO LIMA RIBEIRO and ELISON CARDOSO JÚNIOR were appointed board members of the CLIENT BOARD OF THE OPERATING AGENT OF FGTS in the state of Minas Gerais.
Credentials that attest to the ethical and professional conduct that guides the way relationships are built and cultivated in Contajul accounting in this journey of another 35 years.